About Us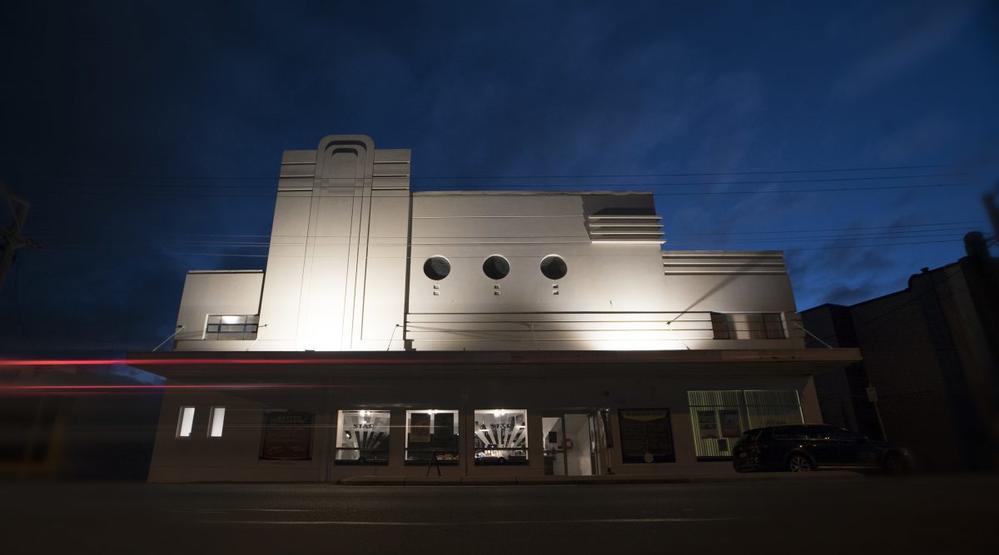 If you drive down Invermay Rd you will see the classic art-deco façade of The Star Theatre. It is a classic piece of architecture from the golden age of cinema and it operated from 1937 to 1969. After that it was an outlet for St Vincent de Paul for many years but now it has been given a new lease of life as a cinema once more.
The Star is now an independently owned cinema with a bar and cafe serving quality Tasmanian food and drinks. It also holds live events, conferences and events.
The Star Theatre in Invermay is one the finest examples of art-deco cinema architecture in Australia and one of the few still in existence. Designed by Tasmanian born architect, Guy Crick.
Bar & Cafe
The Star Theatre Cafe and Bar offers a range of snacks, light meals and treats along with hot drinks, alcoholic and non-alcoholic beverages.
Enjoy a wine or beer during the movie or just come in for a coffee and cake.
Our menu changes regularly but the following is a sample of what is available:
Baked goods: Muffins, chocolate brownies, slices, biscuits
Light meals: Toasted sandwiches, sausage/spinach rolls, quiche, nachos, lasagna
Cold drinks: Red, white and sparkling wine, craft beer, cider, soft drinks
Hot drinks: Coffee, tea, hot chocolate
Cinema favourites: Choc tops, popcorn, lollies, chips
Vision
The Star Theatre was a cinema in Launceston from 1937 until 1969. It is a fine example of late art-deco cinema architecture and we are lucky that it has been preserved.
In addition it is a venue for the community of Launceston that can be used for a range of purposes including live music, comedy, conferences and special events. A bar and cafe offers fine Tasmanian food and beverages that can be enjoyed before, during or after the movie.
The films we offer are an eclectic mix of old and new, from cult-classics to new independent releases, there is something for everyone.
History
The original directors of Star Theatres Pty Ltd owned a number of theatres in northern Tasmania in the 1930s. They wanted to extend their chain into the suburbs of Launceston and it was felt that Invermay would be the ideal location as it was still close to the central business district. The idea was to create a world-class venue equal to the luxurious theatres of Sydney that would provide entertainment for locals and visitors alike.
Crick and Furse, one of Australia's leading cinema design firms, were the architects for the project in association with Harold Masters of Launceston. It was built by J and T Gunn Pty Ltd for a cost of approximately 15,000 pounds.
The theatre opened on 5 October 1937 with The Star news service, followed by James Glason and Zazu Fitts in a 'Romantic Mystery Comedy & Spine-Tingling Thriller' called 'The Plot Thickens' and then the main feature film 'Roberta' starred Irene Dunn, Ginger Rogers and Fred Astaire.
According to The Examiner (6 October 1937), in addition to a packed audience, hundreds of people gathered outside the cinema to admire the neon lighting that decorated the exterior of the building.
The theatre had many features that were considered ahead of its time. The lighting consisted of over 1200 feet of neon gas tubing including a large star that was visible up and down Invermay Road. It was often described as 'the first star in the night sky' over Launceston.
The interior lighting consisted of dimmable neon tubes hidden within the recesses of the walls. The blue coloured lights and the lemon shade of the ceiling produced a pale green light that gave the effect of a ceiling made of glass. The seats were designed for maximum comfort and were made using Tasmanian hardwood and rubber cushioning.
The sound quality was second to none. The auditorium was designed to achiveve the best possible acoustics and the sound equipment was 'RCA Photophone High Fidelity', the same as that used at The Roxy Theatre in New York.
Due to the advent of television, The Star Theatre sadly ceased operation as a cinema in 1969. It then became an outlet for St Vincent de Paul, to whom we are extremely indebted, because they cared for the building for many years. It is essentially thanks to them and other people who have protected Launceston's older buildings, that this architectural gem is still essentially intact, and Launceston can finally reclaim it as a cinema once again!