Star Theatre Functions
When the Star Theatre was built in 1937, it was such a technological marvel that it rivalled even the Roxy Theatre in New York. Over 80 years on, the Star now combines old world charm with cutting-edge technology.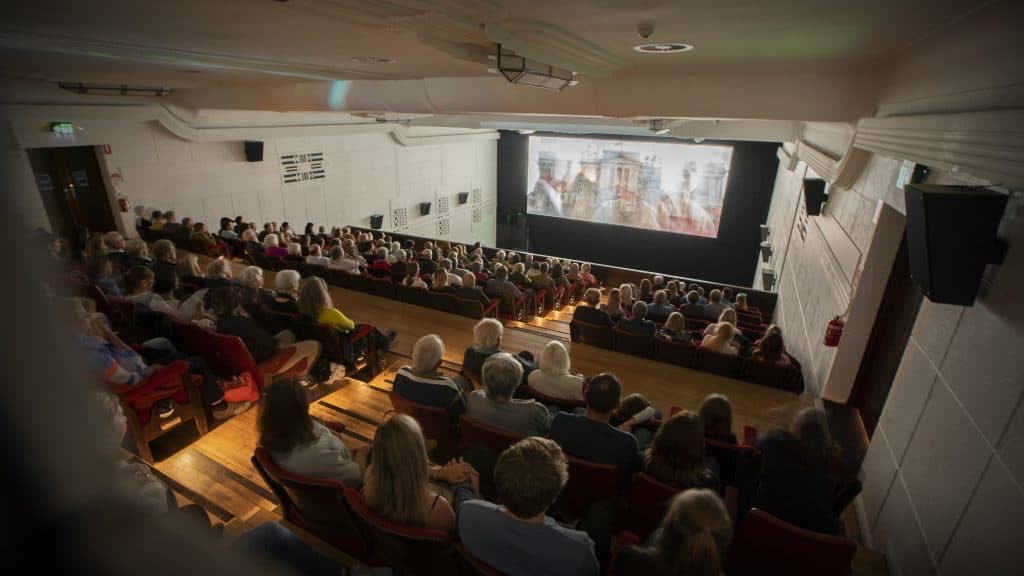 Private Cinema Hire
Entertain your guests in a private cinema. Indulge clients, reward staff or celebrate your birthday with the luxury of a private screening. Pick from our selection of new releases or in-season films, request a classic (this will incur a film hire cost) or screen your own film! Our fully licensed bar is also available for pre or post movie drinks.
The Perks
Great coffee, endless popcorn and unbeatable A/V are just some of the perks of holding your next event at The Star.
Unique Spaces
Choose from several unique rooms, catering from a small group in our boardroom, to 250 people across both levels of our large auditorium. All spaces are acoustically-treated, with natural light or total black-out. It's up to you.
Catering
Fancy a coffee? Our barista can knock you up a coffee, tea and locally-made snack from our cafe. Not to mention an assort­ment of Tassie wines and local brews too.
Range of Packages
Whatever your budget, we offer a range of options. Add or subtract depending on your needs.
Whether it's a private film screening, boardroom presentation or large corporate event, bring out the wow factor at your next event.
Film.Wine. Coffee.
And now your very own function space.
Star Theatre Function Room Capacity and Pricing
Auditorium Capacity – 250
2.5 hour hire
Mon – Fri –  $1000
Sat – Sun – $1200
Technician – $80 hour
Venue hire includes use of projector and screen, sound system, foyer, bar/cafe services, use of in-house furniture in existing set-up. Auditorium hire will apply when you have your own original material or have obtained the screening rights from the copyright holder. When screening original material, a copy must be supplied to the Star Theatre for testing 14 days before screening. to ensure suitability and screening quality. If screening other material, written evidence of the screening rights from the current copyright holder must be provided prior to confirmation of the booking. Venue is hired on a 2hr booking session, additional time is booked on full session increments.
If screening a film that you are not the holder of the copyright, there will be an additional cost of $10pp. to cover distributor costs.
Auditorium hire costs include digital projection and ticketing.
Each screening will come with one technician present. If you require a second technician (eg. addition of a laptop presentation followed by the movie) a $80/hr fee (min I hr) will apply.
Conference room – corporate 
Capacity 25
3 hour hire – $150 + Package A or B
All day – $200 + Package A or B
Package A – No catering (dry hire): $35/hour NV- includes whiteboard, LCD screen, lectern, microphone, WiFi.
Package B – Catered: $35/hour NV+ $30pp – includes whiteboard, LCD screen, lectern, microphone, WiFi, cheese boards, tasting platters, tea or coffee.
Conference room – private
Capacity 25
1 hour hire – $100
Up to I hour hire for private function prior to public film screening. Includes discounted cinema ticket at $14pp. Food and beverage items at 20% off menu price.
Aditional Items
AV Operator – $80 hour
Additonal handheld microphone – $75 day
Group Bookings
Take advantage of discounted ticket prices for group bookings for 12 people or more in a shared session. Ideal for your fundraiser, social occasion, school/holiday program or birthday party. This option means that you will pay for the number of tickets purchased.
Ticket prices for group bookings;
Thursday – Sunday
Adults $14.50
Children $12.50
Wednesday
Adults $12.50
Children $11.50

Group bookings are offered for all sessions subject to availability. Group booking rates are not available on public holidays or for special events or film festivals. Our programming is done on a weekly basis and new session times are available on Tuesday afternoon after 5pm. 
Kids Parties
Gather the kids for some birthday fun! Prebook your party for a minimum of 12 children.
Party Price $20.00 per child
This includes:
– A ticket
– A small popcorn & soft drink
– A lolly bag to take home
– A place to cut the cake
Parents and any extra adults are at regular ticket prices.
School Bookings & Holiday Programs
Book a fun outing for your school or school holiday program. Teachers and parent helpers are admitted free of charge for the expressed purpose of supervising the students during the screening. Additional charges apply if you wish to select a catalogue film or screen your own material.  Add a mini combo to let the students have a true movie going experience.
Ticket Price $8.50 per child
Mini Combo $4.00
small popcorn & fruit juice box
Please book your function three weeks in advance.